Atiku vs Buhari: Supreme Court hearing begins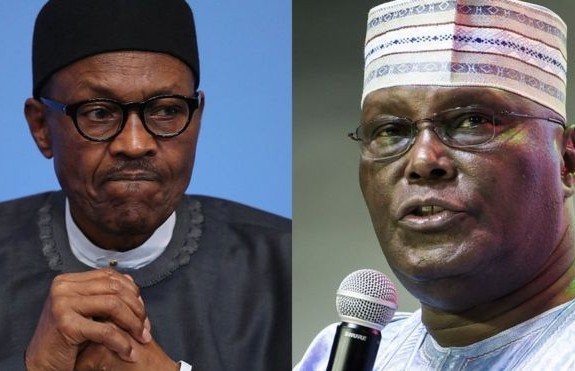 Hearing of the appeal by the PDP Presidential candidate challenging the decision of the Presidential Election Tribunal declaring incumbent, Muhammadu Buhari winner of the Presidential polls commenced Wednesday at the Supreme Court.
---
The matter commenced in a back and forth manner with the appellants insisting that the 7-member panel consider the paragraphs struck out in the earlier appeal which was ruled on by the election Tribunal. 
Livy Uzoukwu, counsel to the appellant prayed the panel to consider the said paragraphs as contained in seven interlocutory appeals before it.
But the Justice Mohammed-led 7-member maintained that judgment on the main appeal should cover the seven interlocutory appeals, as having to deliver judgment on the substantive appeal and others will amount to duplicity of judgment, and absolutely unnecessary. 
And Livy Uzoukwu was adamant about agreeing with the suggestion of the panel even though the counsels to INEC, Buhari and APC had agreed with the suggestion.
After a 15 minute stand-down, Uzoukwu applied to the court to allow all seven appeals to be taken together and prayed the court to adopt same.
On this, counsel to all three respondents, INEC, Buhari, and APC maintained their stand that whatever decision reached by the panel, it will dispose of all the interlocutory appeals.
Galaxy's Godfrey Eshiemoghie reports that the paragraphs struck out are the witness statements at the Presidential Tribunal heard at the Appeal Court Abuja. 
In their arguments, Wole Olanipekun, counsel to Muhammadu Buhari and Lateef Fagbemi, counsel to the APC maintained that the lower court heard the evidences of the said witnesses whose testaments were struck out, but insisted that decision on the main appeal SC/1211/2019 will make the interlocutory appeals inconsequential, as all appeals are for the same matter, which is to disqualify Buhari as being winner of the 2019 Presidential polls.
The court proceeding was still ongoing as at the time of filing this report