President Tinubu Meets German Chancellor Scholz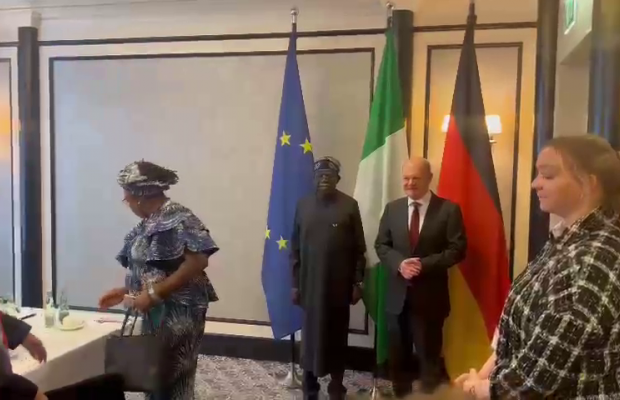 Meanwhile, President Bola Tinubu, on the sidelines of the G20 Compact with Africa Economic Conference on Monday, met with German Federal Chancellor, Olaf Scholz, where he noted that Nigeria's determined pursuit of German investment in targeted sectors of the Nigerian economy was focused on critical growth-enabling industries in energy, transportation, and electric power production, transmission, and distribution.

Recognizing the success of Siemens AG in positively transforming the quantity and quality of Egyptian electric power supply, the President noted that under his leadership, the staggered and unsteady implementation of the Siemens-supported Presidential Power Initiative (PPI) would take on new urgency with a more deliberate process of project execution, even as he recognized the need to embrace Siemens technology in all aspects of the project for project sustainability.

Aware of the new 2,000km ultra high-speed rail network which Siemens is presently constructing across 60 cities in Egypt at the speed of 230km/hour, the President further expressed his keen interest in the role Siemens can play in modernizing and expanding Nigeria's rail network with the provision of ultra-modern trains and railways which can more than double the speed of existing 100km/hour standard-gauge systems presently operating in Nigeria.

To this, the German Chancellor expressed readiness but with an acknowledgment of the need to resolve administrative and financial hurdles brought about by governance problems emanating from prior administration in the sector.

President Tinubu drew the attention of the German leader to the need for his business community to focus their attention on value-additive processing in Nigerian solid minerals, agricultural goods, automobile production, and other job-creating sub-sectors of the economy.

The German Chancellor nodded in agreement and said, "There is nothing too unique on the growth of China only that It came down to a lot of investment from overseas that leveraged on cheap and skilled labour with adequate internal infrastructure and shipping infrastructure for imports and exports to flow easily. A situation he said, is possible in Nigeria which he said has abundant natural resources.
He believes that  Step by step, it is achievable.

The two leaders of the largest economies in Africa and Europe, respectively, agreed to deepen collaboration on the utilization of advanced biometric systems and border control technology to check irregular migration, even as the two leaders agreed that investments in labour-intensive industries will go a long way toward resolving the root causes of the problem.

President Tinubu later exchanged views with the German Head of State and Federal President, Frank-Walter Steinmeier, before attending the Compact with Africa Summit of Heads of State and Government.