Nigerians Are The Greatest Asset And Advantage We Have Over Other Nations - Tinubu To Investors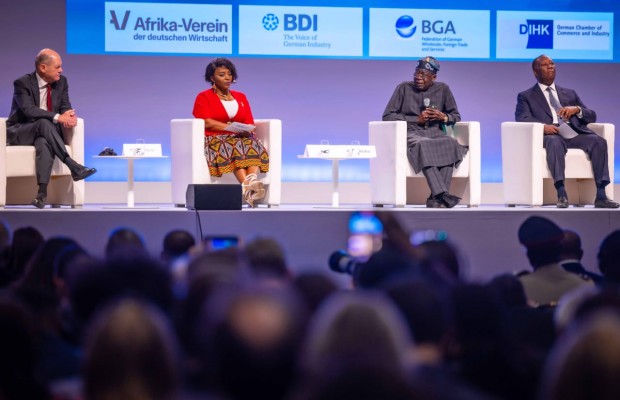 President Bola Tinubu, on Monday, in Berlin, Germany, told international investors that beyond Nigeria's natural resources, the people of Nigeria, who are highly educated, highly skilled, and naturally industrious are the primary asset and advantage the country wields over other nations in the global race for new investments.

The President spoke at a panel discussion titled, "Fostering local value chains and investments in Africa - The role of the German private sector" at the G20 Compact with Africa Economic Conference, hosted by German Chancellor Olaf Scholz.

The President noted that while promoting the rule of law is crucial for attracting foreign investments, Nigeria's energetic youth population and well-educated populace represent the greatest incentive provided to investors toward the mutually-beneficial replication of China's economic resurgence.

President Tinubu apprised the summit of the country's intentional move toward developing labour-intensive sectors of the Nigerian economy for massive job creation as well as a new emphasis on technological progress and new opportunities in Nigeria's rapidly expanding information and communications technology space.

The President assured potential investors that Nigeria has moved beyond restrictive policies, and today, capital can be moved in and out of the country freely, providing flexibility for investors.

While persuading German automobile firms to establish manufacturing plants in Nigeria, he invited German businesses to take advantage of investment opportunities in multiple sectors following the successful visit of the German Chancellor to Nigeria in October.

Speaking earlier, German Chancellor Olaf Scholz noted the dynamic and evolving nature of economic relations between the developed and developing nations of the world as he positions Germany to enhance partnership with Nigeria and Africa on a mutually-beneficial basis.

Other panelists at the discussion were the German Federal Chancellor, Olaf Scholz; President Alassane Ouattara of Côte d'Ivoire; Prime Minister Aziz Akhannouch of Morocco; President Macky Sall of Senegal; Sabine Dall'Omo, Chairperson of Afrika-Verein (German-African Business Association); and CEO of Sub-Saharan Africa, Siemens AG.

President Bola Tinubu hosts notable German Business Chief Executives at a Nigeria-Germany Business Roundtable in Berlin, Germany, on Tuesday.