President Buhari Offers Automatic Employment, Scholarship to 110 Ex-Corps Members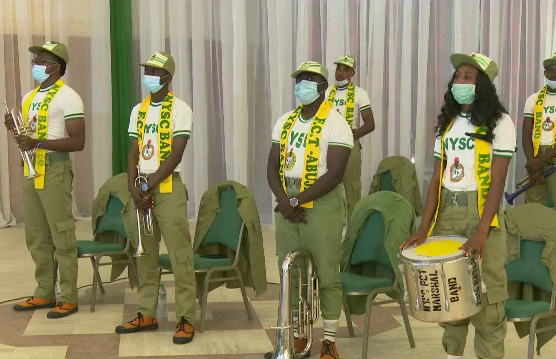 President Muhammadu Buhari has offered automatic employment to 110 ex-corps members in the Federal Civil Service and scholarships for the pursuit of post-graduate studies up to the doctoral level in any university in Nigeria. 
Speaking at the virtual 2018/2019 President's National Youth Service Corps (NYSC) honours award ceremony held at the State House Conference Centre, Abuja, Thursday, President Buhari, also announced cash rewards for the ex- corps members.
He directed relevant government agencies to ensure timely implementation of all the incentives for the award recipients.
The event was an annual program to honour graduates who distinguished themselves during their various service years.
The 2018 and 2019 sets ought to have been honoured last year but for the outbreak of the coronavirus pandemic which is still ravaging the world.
Elated President Muhammadu Buhari was amazed by the performance of the over one hundred copers who excelled in orientation Courses, Primary Assignments, Community Development Service and Winding-up/Passing-out exercises, which formed the basis of assessment for the Honours Award.
The president who expressed confidence that the Awards shall spur the awardees to greater service to the nation and humanity urged them to sustain the patriotic zeal that earned them the award.
The President also used the occasion to commend the founding fathers of the 48-year-old scheme, notably General Yakubu Gowon, who joined the occasion virtually, saying NYSC has remained a bastion of national unity and integration by exposing the youth to diverse cultures and traditions, thereby making them appreciate Nigeria's similarities and diversities. 
On efforts to sanitize the mobilisation process of the Scheme, the President directed NYSC management to ensure that only those who meet the required criteria participate in the one-year national service just as he praised Nigerian youths on National Service for frontally confronting and remaining at the forefront of the war against COVID-19 pandemic.
Minister of youths and sports Sunday Dare said the event indicates that the federal government value the youths of the country while NYSC Director general Shuaibu Ibrahim sees the annual program as part of government efforts to encourage independence and entrepreneurship among the youths.
To them, the honours done the corps members are indications of the abiding fate the federal government has on the NYSC scheme.
For the awardees, the recognition has rejuvenated their hope in the country.
They were also grateful to the god and the federal government for the recognition.
 Anyaogu Onyeyirichi Rejoice, who emerged first for the 2018 set, served in Taraba State while Anyaogu won the National Council of Women Societies (NCWS) Award for the Best Female Corps Member in Community Development.
Dr. Eze Sunday Victor, who served in Jigawa State, came first in the 2019 set while Odion Jessica Eseohen took the 2nd position in NCWS Award for Best Female Corps Member in Community Development.