SGF Lauds FMC Yola for another Successful Conjoined Twins Surgery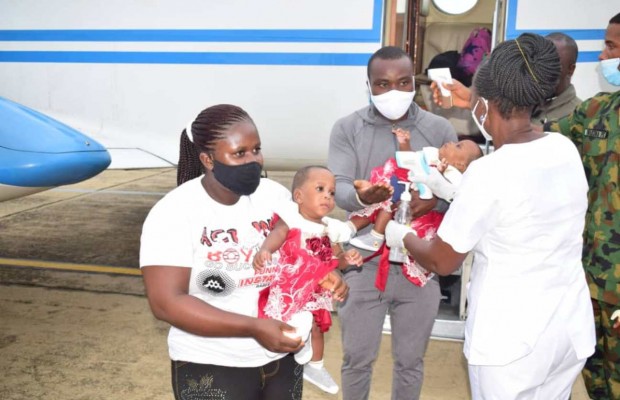 The federal medical centre under the leadership of Professor Awwal Muhammad has successfully separated conjoined twins in another unprecedented feat.
The recent successful separation marked the third term conjoined twins were separated in the hospital in 2013, 2018 and 2020.
At an elaborate occasion to celebrate the grand feat at the hospital premises in Yola, the Secretary to the government of the Federation Boss Mustapha noted that the success was attained as a result of the interventions of the Federal government and the Nigerian Liquefied Natural Gas Ltd and Emeka Offor foundation who donated modern equipment that enabled the hospital to carry out the operation.
Mustapha, however, assured Nigerians that the Federal government will continue to give priority to the health sector where Nigerians will not be going abroad for treatment rather than doing it at home
On the part of the Adamawa state government, the Chief Of Staff who represented the state governor lauds the giant strides of the medical practitioners and assured the Federal government of working together to achieve a common goal 
During the case presentation, Mohammed noted that the twins were delivered on December 12, 2019 through a cesarean section at Bayelsa State and were taken to FMC Yenagoa after they were identified to be conjoined and were stabilized.
He noted that the management of the FMC Yenagoa contacted the FMC Yola for the surgery which they agreed to perform noting that transporting the twins presented a challenge as the conjoined twins could not be transported via a commercial flight because of some inherent challenges and psychological effect.
He thanked the Nigeria Air Force (NAF), for offering to transport them to Yola free of charge noting that they were brought to Yola when they were only 23 days old.
Also, the Representative of the Chief of Air staff disclosed that since the surgery on August 20, 2020, they have recuperated very fast and started playing just after three days and where discharged on the fifth day after the operation.
He called on the federal and state governments to expand health insurance scheme to cover the informal sector, increase budgetary provisions to the health sector in line with the world approved best practices and also called on well to do individuals to come to the aide of the all-important sector