Oyo Assembly Passes Primary Healthcare Bill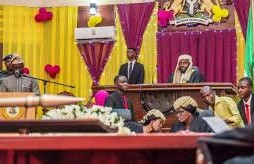 The Oyo State House of Assembly has passed into law the primary healthcare board amendment bill.
The amendment which was passed during the plenary will improve the welfare and salary of the staff.
According to the Speaker, Rt. Hon. Adebo Ogundoyin, the board shall henceforth be responsible for the payment of the salaries of the primary healthcare workers in the State.
According to him, the board will now maintain an account into which the Gross Salaries of all Primary Health Care Workers in the local government areas of the State shall be remitted.
He added that remittance by the local government shall be done by the third week of the month stressing that this will improve the welfare and encourage health workers, who labour day and night caring for the citizens