NAF Delivers 117 Cylinders of LOX to COVID-19 Centers in Abuja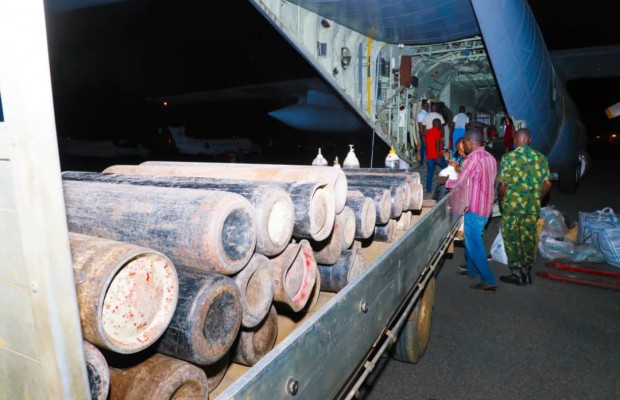 The Nigerian Air Force has distributed 117 cylinders of Liquid Oxygen, LOX, to two COVID-19 Management Centres in Abuja, in response to the recent spike in COVID-19 infections across the country.
Director of Public Relations and Information, Nigerian Air Force, Air Vice-Marshal Ibikunle Daramola in a statement disclosed that the Chief of the Air Staff (CAS), Air Marshal Sadique Abubakar, has directed the Nigerian Air Force (NAF) Liquid Oxygen Plant at the 103 Strike Group Yola to scale up the production of LOX for distribution to COVID-19 Management Centres.
He said that the beneficiary Centres are the University of Abuja Teaching Hospital, Gwawalada and the Department of State Services (DSS) Medical Centre, Asokoro. 
The Chief of Air Staff assured that the NAF will sustain the free provision of LOX, in addition to airlift missions, in continued support of the Government's efforts towards combating the COVID-19 Pandemic. 
Commissioned on July 10, 2017, the 103 STG LOX Plant Yola has the capacity to produce 1,000 litres of Liquid Oxygen every 8 hours, which is in excess of the NAF's requirements for its air operations and for use in its Medical Centres across the nation. 
It is also noteworthy that the LOX Plant has, since the outbreak of the COVID-19 Pandemic, been producing clinical oxygen for distribution to COVID-19 Management Centres and designated hospitals, as part of measures to support the management of serious COVID-19 cases.