Police Uncovers another Mass Grave in Benue, 2 Arrested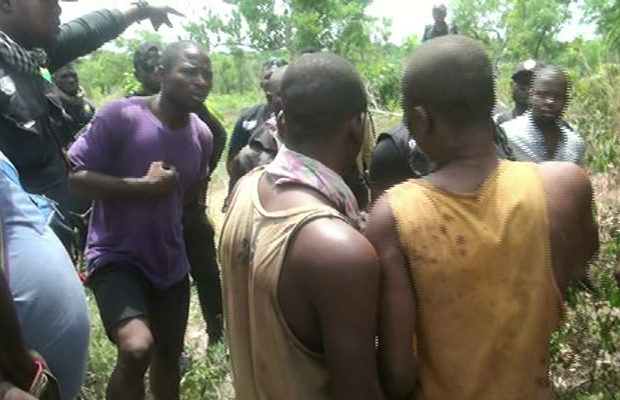 The arrest of two notorious suspects by Police Operative in Benue has led to uncovering of another mass grave in Katsina-Ala local government area of Benue state.
The two suspects, Aondoaseer Terseer alias Bob Tsetse, 23 years and Orkashima David alias Cash - money who is 22 years were arrested in Osun State after both fled following the killings, kidnapping, and armed robbery activities carried out in mbamon, Tavachan, Michiche Council ward of Katsina-Ala LGA of Benue in less than three years.
The two suspects who are secondary school drop-outs are members of a ten-man criminal syndicate who took policemen round to uncover shallow graves, dry and abandoned wells where they kept their dead victims to conceal their nefarious acts.
Among the six dead decomposing bodies uncovered so far were three males and three females, in which two of the females were their own wives killed in January and April of 2021.
The suspects who spoke to newsmen confess their crime.
The commander of Operation Zenda, the state police outfit, Chief Superintendent of Police, Justine Gberindyer, who led the suspects to uncover the atrocious acts, said they have been on their trail following numerous criminal activities which has made residents desert their communities however said investigation is still on going.
CSP Justine Gberindyer had in 2018 led his team to uncover 16 mass graves in Ushongo local government area of Benue after it arrested 10 man gang who specializes in killing their victims and disposes them of their belonging, particularly Motorcycles and buries them.
The traditional head of the community, Zaki Vershima Agbidi Smart, and the Deputy Chairman of Katsina-Ala local government council, Hon Agba Thomas, who witnessed the situation, said justice will now be served for the two notorious criminal elements who have made life unbearable and farming activities impossible as this will bring succour to the families who have long searched for the remains of their loved ones.
Meanwhile, State Police Public Relations Officer, DSP Catherine Anene, said the two suspects are in their custody and will be prosecuted according to law, pending investigation as the new State Commissioner of Police, Audu Madaki, has vowed all criminal elements who poses threat to lives and property will be fished.