G-20 SUMMIT: Presidents Tinubu, Heads of Government Arrive Venue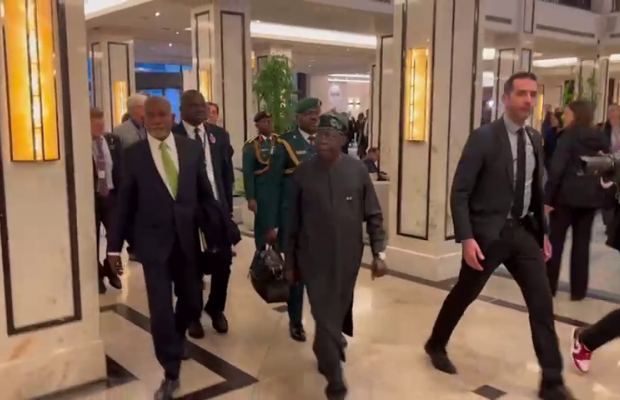 President Bola Tinubu and other heads of State have arrived for the G20 investment summit and the compact with Africa conference going on in Berlin, Germany.
The President will join other Heads of State and Government of CwA member countries, bilateral partners, as well as Heads of International Organizations to deliberate on the immediate enhancement of economic and business cooperation with a view to outlining concrete measures to boost investments in critical areas such as energy, trade, infrastructure, and new technologies, among others.
The G20 CwA Conference will be taking place alongside the Fourth G20 Investment Summit, co-hosted by the German government and German business associations.
 
In view of President Bola Tinubu's globally recognized drive for foreign direct investment in Nigeria, the President will sustain the momentum and advance the mission further as he leads Nigeria's delegation to participate in the investment summit. 
The visit also affirms President Tinubu's commitment to diplomatic reciprocity as the invitation to Germany from the German Chancellor is being honoured following the visit of the German Chancellor to Abuja and Lagos, Nigeria, from October 29 to October 30, 2023. 
Leveraging on the opportunity presented by the Fourth G20 Investment Summit, the Nigerian delegation will follow up on productive meetings previously conducted with high-ranking representatives from German business organizations who were part of the official delegation of the German Chancellor to Nigeria.
In his discussions with Chancellor Scholz in October, President Tinubu highlighted the imminent need for more German companies to invest in the Nigerian market across multiple sectors of the Nigerian economy, such as transportation, mining, and energy, all while noting that Nigeria remains Germany's second largest trading partner in Africa.
Nigeria and Germany, being the largest economies in Africa and Europe, respectively, recorded an increase in bilateral trade volume from two to three billion Euros between 2021 and 2022. 
President Tinubu will return to the country following the conclusion of the conference.