Call Off Strike, Governors Forum Appeal To Judicial Workers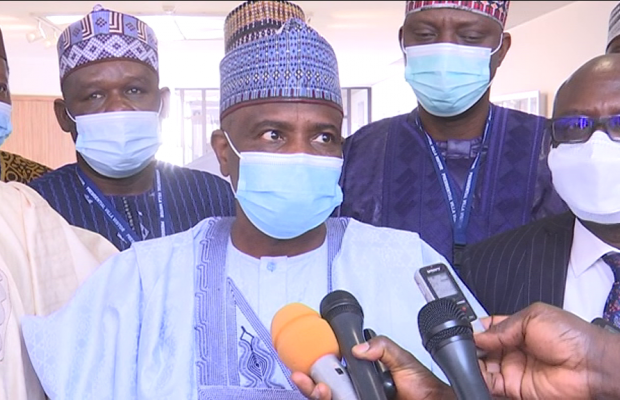 Sokoto State governor, Aminu Waziri Tambuwal, has appealed to striking members of the Judiciary Staff Union of Nigeria (JUSUN), to suspend their industrial action. 
Governor Tambuwal, who doubles as  Vice Chairman of the Nigerian Governors' Forum (NGF), made the appeal when he led members of the Technical Committee on the implementation of the autonomy of State Legislature and the Judiciary to the State House, Abuja to meet with the Chief of Staff to the President, Professor Ibrahim Gambari, on Thursday.
Recall that JUSUN embarked on a nationwide strike over the non-implementation of financial autonomy for the judiciary, a development that has paralyzed court activities in states across the country.
Tambuwal said the technical committee raised on the matter had made reasonable progress on the implementation of financial autonomy to state judiciary and legislature, adding that the committee would meet again on Monday after receiving the final report of the committee.
Asked about the position of the governors on the demands of the judicial workers, Governor Tambuwal said "from the very beginning, during the 8th Assembly, under the leadership of Bukola Saraki and Speaker Dogara, the Governors Forum under Abdulaziz Yari then, met with them and supported the financial autonomy for the state legislature and the judiciary. 
He said that is why with that support, they were able to achieve the passage of the amendment by the National Assembly and the state legislature across the country. 
The Governor said the NGF is unequivocally in support of the autonomy of the institutions.
Asked what the issues were if actually, the governours were willing to implement legislature and judicial financial autonomy in their states, Tambuwal said assured that governors are committed to building institutions, particularly the parliaments and the judiciary, in their respective states. 
On why President Muhammadu Buhari had to set up the implementation committee when the governors were not opposed to the financial autonomy for legislature and judiciary, Tambuwal said he was not in any position to query the wisdom of the President on the matter.