TSA: Nigeria and Gambia Sign MOU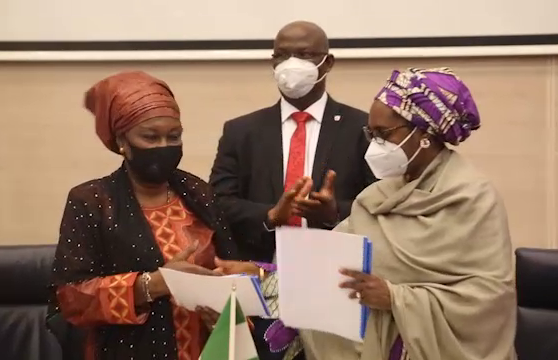 Nigeria and Gambia have signed a memorandum of Understanding (MOU) for technical cooperation on Treasury Single Account on the recommendation of the international monetary fund (IMF).
Honourable minister of finance, Budget and National Planning, Zainab Ahmed in her opening remark said the signing of the (MOU) will enable the Gambia to leverage on the experience of Nigeria to build on their strengths while avoiding mistakes that Nigeria made. 
Hajia Ahmed also said the benefits to this cooperation are limitless as Nigeria is willing to share experience, pain and gain learnt over the Years on implementing TSA.
The minister further said Implementation of TSA has benefited Nigeria immensely On the monetary policy side, and that the Gambia will enjoy all of the benefits if they diligently implement the policy.
Leader of the Gambia delegate, Ada Gaye agreed that the MOU will strengthen the already mutual relationship between Nigeria and Gambia which will bring growth in both countries.
Ada-Gaye said the Gambia Government was happy with the Understanding between the two countries and looks forward to greater relationship.