Rice dealers attribute re-bagging to substandard local rice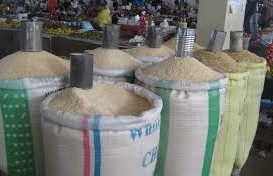 As buyers continue to criticize the re-barging of local rice into foreign bags across markets in the country, dealers of rice in the popular Igbudu market in Warri have attributed it to what they describe as the low quality of Nigerian rice.
---
They made this known while speaking with Galaxy news correspondent Dele Fasan who was on a market survey at the market.
Some of the dealers who spoke expressed their personal views on the reason for transferring local rice into foreign bags.
Others who spoke urged the federal government to introduce a regulatory agency to check prices of rice in markets.
Meanwhile, despite the closing of Nigerian borders, foreign rice are still visible in most of the shops visited, while those who could not afford foreign rice buy in baskets.