Ogun Links 100 with Investors for Agric Business Opportunities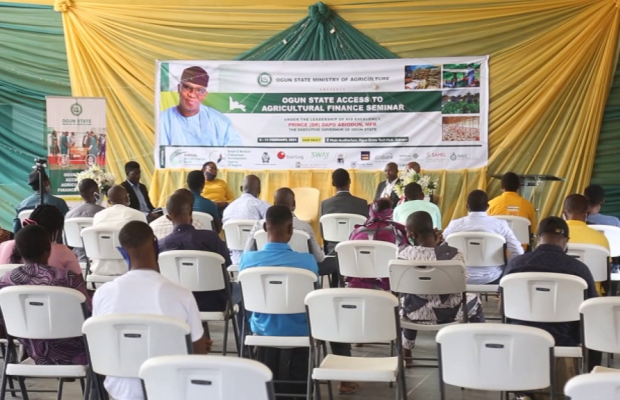 In its quest towards improving the ease of doing business in Ogun state, the ministry of agriculture says it has partnered with financial institutions to train no fewer than 100 women and youths in a bid for them to have access to all forms of funding; which includes loans, grants and investment funds to boost their agric businesses.
The Senior Special Assistant to the state governor on agriculture, Dr. Angel Adelaja-Kuye made this known while speaking with newsmen at the Ogun state access to agricultural finance seminar held in Abeokuta, the Ogun state capital.
Dr Adelaja-Kuye noted that the goal of the state government is to empower youths into various sectors of the state economy, with agriculture as the major factor towards job creation.
Adelaja-Kuye added that the outcome of the training is geared towards ensuring youths and women are investment ready, amongst others.
On how the beneficiaries were selected, Dr. Adelaja- Kuye said they were picked from the Ogun Job portal as part of the current administration's efforts to reduce unemployment.
She said that the initiative behind the programme was to boost agricultural productivity, agribusiness capacity and the entire Gross Domestic Product (GDP) of the state.
Some of the beneficiaries thanked the state government for the gesture; they said it will further enhance their productivity level in the agric business sector.