Delta concludes Business Mgt Training for 2019/2020 STEP Graduands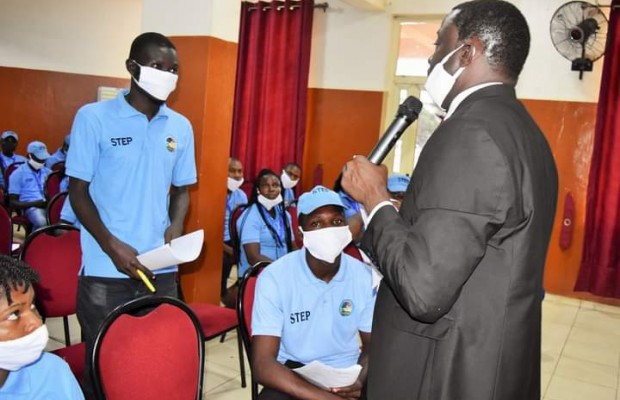 The Delta State Job Creation Bureau has rounded off its Business Management and Entrepreneurship Training (EBMT) for the 2019/2020 Programme Cycle with the 4th Batch of STEP graduands.
The Chief Job and Wealth Creation Officer, Prof Eric Eboh, disclosed this during a two-day Business Management and Entrepreneurship Training held for the graduands by the Bureau in Asaba.
The beneficiaries are 183 in number and have completed their 8 months skills training either in Fashion and Textile Design; Tiling and Interlocking; Welding and Fabrication, or in Electrical and Solar Works.
This brings the total number of STEP beneficiaries who have participated in the EBMT in the 2019/2020 Cycle to 474 persons.
Addressing the beneficiaries who constitute the 4th Batch of the Skills Training and Entrepreneurship Programme (STEP) in the 2019/2020 Cycle, the job creation boss congratulated them for the successful completion of their training in spite of the challenges posed by the COVID-19 pandemic.  
He said that with the EBMT, they were almost at the end of the programme, adding that it would qualify them to receive their starter packs.
"I congratulate you because you deserve to be here. We are all conscious of the challenges we experienced due to COVID-19 pandemic.
"In spite of the challenges, you persevered. We started this programme in February. By now, you ought to have completed the programme. You have successfully completed your training, passed the Post Training Proficiency Test and after this business management training, you will be given your starter packs," he remarked.
He pointed out that the essence of the EBMT is to expose them to ideas and tips that would help them to manage, grow and sustain their businesses.
"For you to be successful as an entrepreneur, you must know how to manage your business, prepare a business plan, where to locate your business amongst others. That is why the Governor, Senator Ifeanyi Okowa, ensured that seasoned resource persons are brought to talk to you about these tips to help you succeed," he added.
The Chief Job and Wealth Creation Officer, represented by the Coordinator STEP in the Job Creation Bureau, Mr Onyeisi Nkenchor, advised them not to take the training for granted, but to take it seriously by imbibing all that they would be taught and to apply them in managing their businesses.
Pastor Afolabi Adun in his lecture entitled, "Principles and Practices for Starting Business" taught them how to avoid pitfalls in business and tips for business success.
Responding, Ifeanyichukwu Callistus (Oshimili North LGA) and Brenda Macaulay (Bomadi LGA) both in Fashion and Textile Design said STEP is a life-changing opportunity that should be used well by all beneficiaries, thanking the State Government for the initiative.
Sharing his experience, Pleasure Eferaye (Ethiope East LGA) recounted the challenge he faced as a trainer. He said his passion to acquire a skill after five years of joblessness as a Statistician, motivated him to travel from Oghara to Sapele daily to acquire a skill in Welding and Fabrication.
He expressed optimism that when established he would grow his business to standard, having learnt the skill well.
According to him, "I want to build my Welding and Fabrication Enterprise to meet the Job Creation Bureau criteria for choosing training centres. This will enable me to qualify to become a job creation trainer. I want to save prospective STEP beneficiaries in Oghara the financial burden and rigour of going to Sapele to acquire the skill there."
So far, over 5,000 previously unemployed youths have been trained and established with starter packs to own and run their own businesses under the State Government's Job Creation Bureau in the past five years.