Oshiomhole reacts to Anenih's death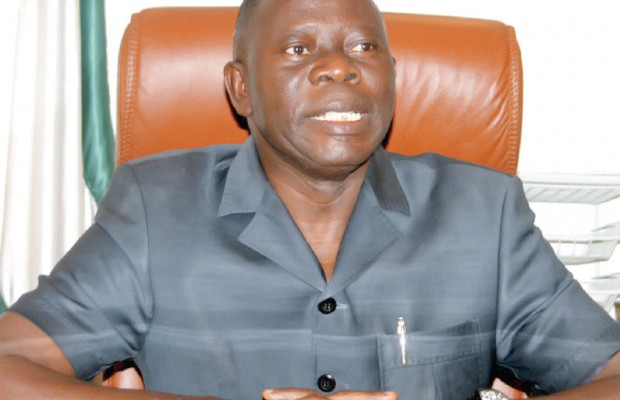 APC National Chairman, Comrade Adams Oshiomhole has received with a heavy heart the news of the passing of Tony Anenih,  the former Chairman of the Board of Trustees of the Peoples Democratic Party (PDP). 
---
The former minister of works died Sunday afternoon at Cedarcrest Hospital Abuja. He was 85 years old.
 Oshiomhole described Anenih a political colossus ''Politics may have separated us, but nothing affected our personal relationship. Whatever public disagreement we might have had, I am consoled that we both reconciled at the church altar after he announced his retirement from partisan politics. 
It is a measure of his generosity of spirit that when I announced my interest in the chairmanship of APC earlier this year, he wrote a letter of endorsement expressing absolute confidence in my ability to inspire APC to greater heights.
His explicit support was not just in an objective appreciation of my ability but also in solidarity as fellow Edo man.'' he said. 
The national chairman alluded they might have disagreed in terms of methodology, but there is no denying that deep in Anenih's heart was a commitment to see the progress of the nation at large and his native Edo in particular. 
''Our thoughts and prayers are with his family and political associates at this sorrowing moment, '' he concluded.
 Anthony Akhakon Anenih popularly called Tony Anenih was born in Uzenema-Arue in Uromi, Edo State of Nigeria on August 4, 1933.
He was a Nigerian politician who served as the Minister of Works and Housing under the regime of former Nigerian President, Olusegun Obasanjo.
After obtaining his secondary school qualifications, Tony Anenih joined the Nigeria police force in Benin City in the year 1951. He attended the police college in Ikeja, and was among the lucky individuals selected for further training in the Bramshill Police College, Basingstoke, England in 1966 and the International Police Academy, Washington DC in 1970.
 He was the police orderly to the first indigenous Governor General of Nigeria, Dr. Nnamdi Azikiwe. He also worked as an instructor in various Nigeria's police colleges, and in the year 1975, he was assigned to the Administrative Staff College (ASCON), Lagos.  Tony Anenih retired from the Nigeria Police after he became a Commissioner of police. 
After his retirement from police, Anenih joined politics, and became the State Chairman of the National Party of Nigeria (NPN) between 1981 and 1983. It was under his chairmanship that Dr. Samuel Ogbemudia was elected as a civilian Governor of Bendel State though the administration was cut short by the military takeover of December 1983 by Muhammadu Buhari. 
After the formation of  the new political party, the Social Democratic Party, Tony Anenih became its National Chairman from 1992 to 1993. It was under his chairmanship that Chief M. K. O. Abiola was elected as President of the Federal Republic of Nigeria. 
When in the year 1994, a constitutional conference was constituted to discuss a forward for Nigeria, Tony Anenih was appointed a member. 
Tony Anenih was a member of the PDM until early April 2002. 
In early April 2002, Tony Anenih joined the People's Democratic Party (PDP). He was said to have been the brain behind the April 26, 2002 declaration of President Obasanjo at the International Conference center Abuja. 
He was deputy national coordinator of Olusegun Obasanjo's campaign Organisation in the years 1999 and 2003 national elections.
After Olusegun Obasanjo became the president of the Federal Republic of Nigeria in 1999, Chief Tony Anenih was appointed Minister of Works and Housing. He later became the Chairman of the Board of Trustees of the Peoples Democratic Party (PDP).