TODAY: The Morning after Yesterday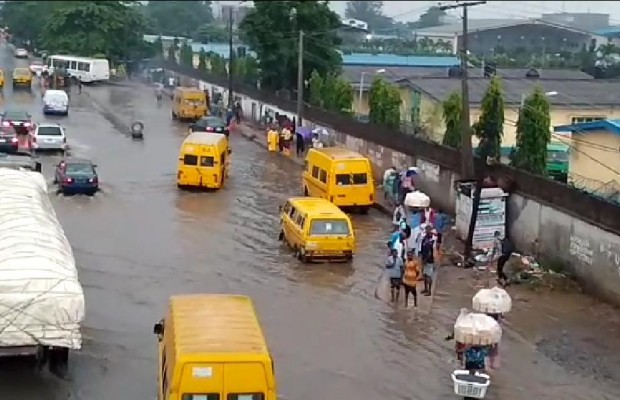 Written by Teslim Ajayi
@teslimajayi
I was woken up this morning with thundering claps of an abundant rain showering over Lagos and as I set out for work, I then realized that my vehicle's auxiliary gear malfunctioned some days back whilst in motion on my way home.
That incident averted, was a miracle from God bearing in mind what it could have cost me to fix damages on third - party vehicles via unexpected multiple road accidents.
However, today's rain was a revelation of some sort, as what I witnessed this morning was appalling at the Third Mainland bridge end of the Berger bus shelter provided for commuters by Lagos State Government where people drenched in rain took caution to the winds and mingled carelessly without observing the social distancing protocol to stay safe from contracting COVID -19.
I could see hawkers dashing to and fro the crowd to sell snacks to a demoralised lot who must have been waiting endlessly to catch a BRT bus service to no avail apparently due to one side of the coin NCDC protocol that forbids the buses in transit from activating air-conditioning system in order to reduce human to human spread of the virus.
As I look around from where I was standing and shivering, with my facemask firmly in place as an alien amongst the earthlings due to the attendant cold from the torrential rainfall, something caught my attention and sent a frightening chill all over my body and in awe, I watched a traditional bus conductor calling passengers to board the yellow bus with N300 fare tag, and commuters were scampering over each other to take advantage of the few available seats meant for only two person as demanded by the new public transportation rule.
But to my consternation, the conductor insisted he was carrying a full load whilst disregarding the dangers that moment portends for his deliberate ignorance and sheer stupidity of gullible droves who are drifting to a danger of getting infected with Coronavirus.
As a people, shouldn't we be ruminating over the rising figures of confirmed cases and deaths from COVID-19? Why are we still allowing ourselves to be hoodwinked by the bad policies of the government which can always be challenged and reinvented during elections through voting for a selfless leadership and not selfish usurpers roaming the corridors of power as we have today?
Let's be our brother's keeper and speak with one voice to fight the scourge of COVID - 19 by following the laid down protocols provided by NCDC; whether it rains or not. We are humans with a sixth sense and that gives us the power of reasoning to determine good from evil deeds regardless of circumstances we find ourselves.
Remember, life is transient, and no one knows tomorrow. If you are a politician who embezzles public funds and travels overseas to spend your ill-gotten wealth, you will still be treated as a stupid second class black man in a society that cares only about their own.
Today is your day and you should be glad in it. So, when you see something, say something and together let's get rid of the rots in governance by talking about it for posterity. Let's make the best use of our time and act responsibly to stay safe.
The question now for government policymakers is, how can the people avoid large gatherings during the rains and check the excesses of Shylock transporters who are asking for a pound of flesh from the commuters to and fro their destinations in Lagos State.