Shiites protest at NASS complex, clash with police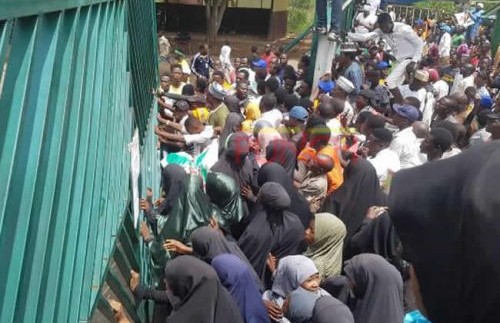 There was pandemonium at the National Assembly this Tuesday as members of the Islamic Movement in Nigeria popularly known as Shiites in a daring move tried to force their way into the Parliamentary Complex while plenary session was ongoing.
---
The protesters who came in their hundreds engaged in open confrontation with the security operatives at the entrance, with this resulting in the injuring of at least two policemen and many of the Shiite members who threw stones also injured, some fatally, as they approached the Parliamentary complex.
There was sporadic gunshot as the security operatives manning the Parliamentary Complex dispersed the protesters.
Galaxy's Godfrey Eshiemoghie reports that vehicles were either vandalized or set ablaze in the course of the incident.
Meanwhile, the National Assembly has given its official reaction on the Shi'ite protest incident.
Addressing Senate Correspondents, the Chairman of the Senate ad-hoc Committee on Media and Public Affairs, Senator Dayo Adeyeye said security at the National Assembly remains top priority seeing it is a public building accessible to all Nigerians.
The members of the Islamic Movement in Nigeria have been in a long drawn battle with the Nigerian govt. as they call for the release of their leader who has been in custody for over three years.