Police exhume remains of woman killed by spiritualists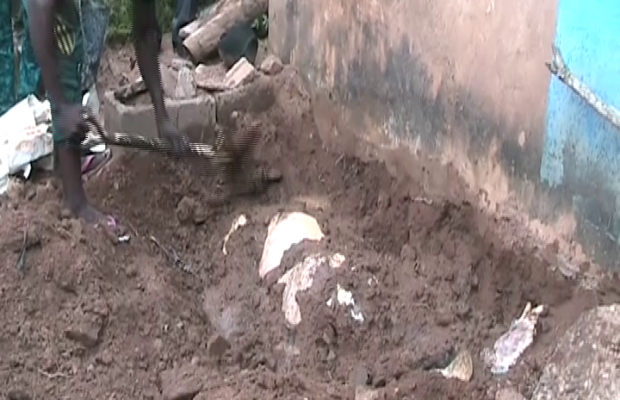 Officers of the Homicide section of the Oyo State Police Command on Thursday exhumed the remains of a 25 years woman identified as Bosede Oguntunde.
---
Oguntunde was strangulated and killed by a spiritualist in Igbora under Ibarapa Central area of Oyo State.

The victim, a housewife,  was lured to Igboora by the suspects who she met on Facebook.

She had discussed her socio-economic and marital problems with the spiritualists and was invited by the suspects.

Correspondent Kunle Ojo reports that the suspects injected the victim with an overdose of sleeping drug and subsequently overpowered and strangulated her to death.

Commissioner of police, Shina Olukolu, who led a team to the site of the incident, urged members of the public on the danger inherent in absolutely trusting individuals and groups who are entirely strangers on Facebook stressing that investigation is ongoing to further unravel the mystery and motive for the heinous crime.
While calling on residents to always be careful of her movement, Olukolu says investigation is ongoing to further unravel the mystery and the motive for the heinous crime.
The Spiritualist, identified as Woli Dotun Ogunlade confessed to the crime saying he ventured into the act because of his friend.
Residents of the areas who trooped to the scene expressed shock and disbelief about the incident calling for more security surveillance in the area.
The family of the deceased has been contacted for the release of the corpse.