One Injured as Fuel Tanker Explodes in Ibadan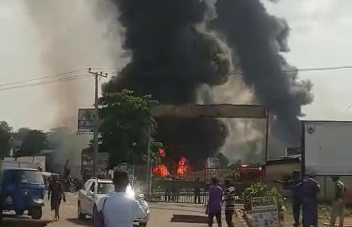 One person sustained serious injury when a  tanker loaded with premium motor spirit, otherwise known as petrol, went up in flames at the Iyaganku area of Ibadan after it flipped and overturned.
The truck coming from the Challenge area of Ibadan lost control, rolled over into the Iyaganku river, and caught fire minutes after.
Correspondent Kunle Ojo reports that the incident led to confusion in the area as people were seen scampering for safety to avoid being caught up in the inferno.
The timely arrival of officers of the Oyo state fire service prevented the inferno from spreading to some structures in the area.
The Deputy Director, Oyo State Fire Service, Moshood Adewuyi, who confirmed the incident in a chat with our correspondent explained that four fire trucks were immediately moved to the scene of the incident in a bid to curtail the spread of the inferno before it spreads to a nearby petrol station.
He stressed that firefighters arrived at the scene of the incident before the fuel tanker caught fire.
As at the time of filing this report, there is heavy gridlock in all roads and routes that lead to Iyaganku and Alashinloye area of Ibadan as a result of the incident while officers of the Federal Road Safety Commission (FRSC), have arrived at the area for proper traffic management.