Ogun JUSUN, PASAN Protest over Autonomy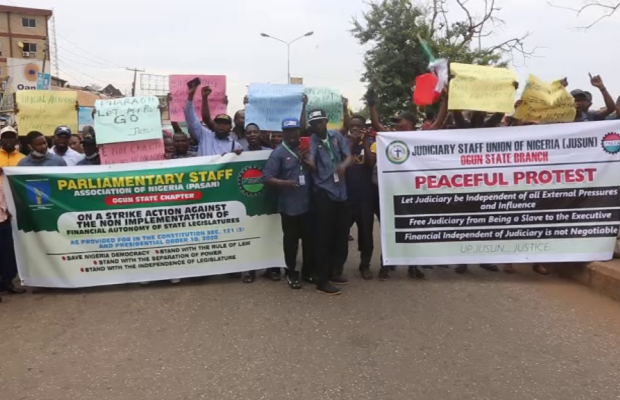 The Ogun state branch of the Judiciary Staff Union of Nigeria (JUSUN) Ogun branch, and the Parliamentary Staff Association of Nigeria (PASAN) on Thursday protested over the delay in implementation of Financial Autonomy.
Speaking to Galaxy TV News, the Ogun State Chairman of JUSUN, Edun  Tajudeen, said the reason for the protest was to agitate for the financial autonomy of the judiciary, adding that Judiciary must be a freelance body.
He, however, called for the release of all the monies accrued to the judiciary to the heads of court.
The JUSUN chairman vowed that if the workers' demand is not met, all the courts in the country would be under lock and key.
It would be recalled that that members of JUSUN have been on an indefinite strike across Nigeria since April 6 to enforce financial autonomy for the judiciary arm of government as granted by the Nigerian constitution.