MAKE THE FORESTS AROUND YOU SAFE, GOV AKEREDOLU TELLS ONDO TRADITIONAL RULERS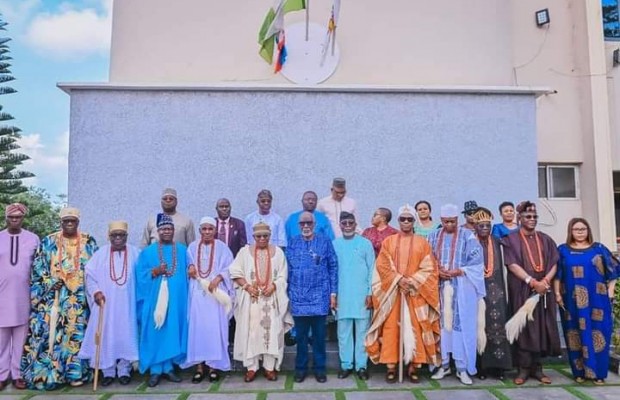 Governor Akeredolu has urged  traditional rulers to join hands with the government to fight crimes and criminals who have invaded the state's forests.

The Ondo State Governor said this while receiving the traditional rulers in the state in his office on a condolence visit over the Owo Terror Attack.

They were led by the Chairman, Ondo State Council of Obas and Deji of Akure kingdom, Oba Aladetoyinbo Aladelusi.

The Governor, while appreciating the condolence visit, charged the monarchs to make the forests around them safe.

He advised the monarchs to gather their hunters and rid the forests around them of criminals.

Akeredolu stress that We are for Nigeria, for restructuring and we are for state police. These Marauders, we are going to pursue them. We need your help. We need your assistance. Make the forest around you safe." The Governor said.

Earlier, the Deji of Akure, Oba Aladelusi described the attack as horrific, adding that it was a terrible situation that the monarchs couldn't comprehend.

The Oba said what happened in Owo more than a week ago now, was  horrifying and terrible situation that the Obas' couldn't comprehend. Because anything that happens to one of us , happens to all of us.