HOODLUMS RAZES HOUSE OF APC CHIEFTAINS IN BENUE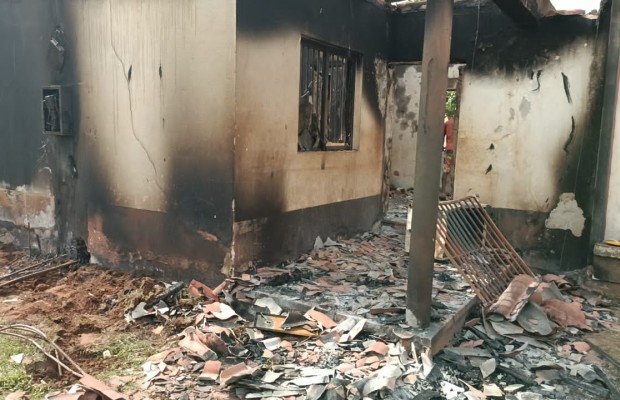 The house of All Progressives Congress, APC, chieftain in Benue state, Alhaji Abubakar Usman a.k.a Young Alhaji, has been set ablaze.
The incident which took place in Otukpo, Benue South senatorial zone of the state was said to have happened at about last 3am when the chieftain and other members of his household were fast asleep.
As at the time the fire was raging, a casket was allegedly placed in front of his house to announce the death of his party, APC.
Speaking to journalists on phone, the APC cheiftain Young Alhaji who confirmed the fire incident, said the hoodlums used petrol bomb to set his house ablaze saying the whole place would have been burnt down if not efforts of his staff who quickly put out the fire.
Young Alhaji confirmed that the he personally placed the coffin in front of his house four days ago to signify that his party is about to die as steps needs to be taken to save it.
Meanwhile Governor, Samuel Ortom has condemns the attack on the house of APC chieftain, describes the torching as unacceptable, barbaric and anti-democracy. 
He called on security operatives to fish out perpetrators of the act and warns those causing unnecessary tension on account of political differences to desist or be prepared to face the long arm of the law.