FEC Approves N20.366bn Projects across four Ministries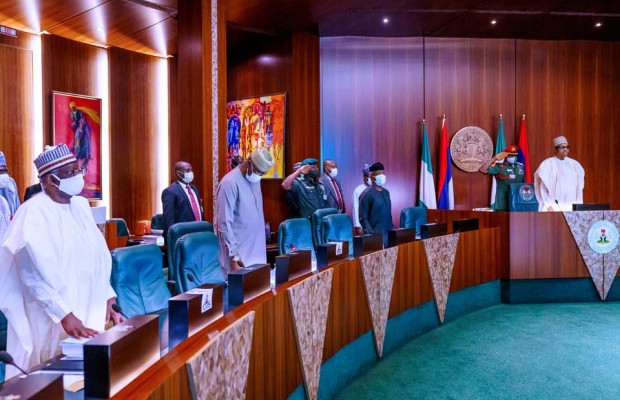 The Federal Executive Council has approved a total sum of N20,366,454,990 billion for various projects across the country.
Ministers of the four concerned ministries made the disclosure while addressing journalists after the sixth virtual council meeting held at the presidential villa, Abuja.
The Ministers of Works and Housing, Babatunde Fasola; Federal Capital Territory, Mohammed Bello; Water Resources, Engr. Suleiman Adamu and their  Aviation counterpart, Hadi Sirika, all said their various memoranda presented before FEC were approved.
FCT Minister, adamu Bello began the briefing with his ministry's presentation of two memos for the construction of road linking Yaba to Gurdi in Abaji area council and the third phase of the construction of roads within the city of Abaji, both of which aggregated to about N6.7 billion.
According to the Minister of Aviation, Hadi Sirika, FEC gave nod his ministry's request for a fund for works on the taxiway of the Murtala Mohammed International Airport in Lagos.
Sirika said the project will gulp about N2.3 billion.
The Aviation Ministry presented a memo, which is for the revised estimated total cost for the extension on asphalt overlay of the Murtala Muhammed International Airport runway, reconstruct and rehabilitate the taxiway with a 12 month completion period.
For the Ministry of Water Resources, FEC approved a memo for the rehabilitation and reconstruction of Lankang Irrigation Project in Plateau State with the sum of N634.2 million.
According to Minister Suleiman Adamu, the project will help increase the nation's irrigation capacity from 130,000 to 500,000 under a scheme meant to run from 2016 to 2030.
The Ministry of Works and Housing also presented two memos costing above N10.6 billion for project cost revision before FEC, both of which were approved.
Minister of Works and Housing Babatunde Fashola said the amounts are in aid of completion of the Koton-Karfe-Lokoja section of Abuja-Abaji-Lokoja Highway and the Cham-Numan section of the Gombe-Yola Highway.
President Buhari presided over the sixth virtual FEC meeting.