Boko Haram: Buhari visits Maiduguri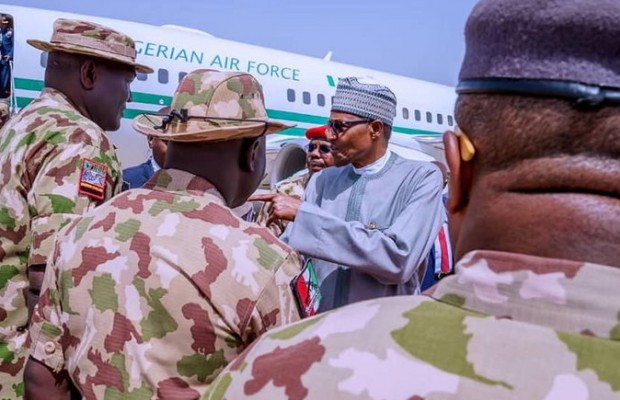 President Muhammadu Buhari has paid a sympathy visit to victims of a Boko Haram attack earlier this week, in which at least 30 people were killed.
Buhari's aircraft landed at an Air Force Base in Maiduguri Wednesday afternoon, on his way from Addis Ababa, the capital of Ethiopia, where he attended the African Union summit over the weekend and a state visit to that country.
The president's visit was mainly to condole with the victims' families and meet the state government officials on the incident.
Borno State Governor Babagan Zulum had confirmed that at least 30 people were killed in the attack by suspected Boko Haram insurgents late Sunday.
Correspondent Nnabuchi Okey Nnabuchi reports that President Muhammadu Buhari in the company of governor Zulum also visited the palace of the Shehu of Borno where he condoled with the Shehu, His Royal Majesty, Abubakar Umar El-KANEMI, over the unfortunate incident.
An unknown number of women and children were also confirmed to have been abducted while at least 18 vehicles including lorries and others conveying foodstuffs were burned down when the gunmen attacked the Auno community in Konduga local government area of the state.
Several other local residents also sustained injuries during the attack in the community located about 24km north of Maiduguri, the capital of the state.
The gunmen had blocked the major road leading to the Auno community, raiding surrounding villages killing travelers and wounding some members of the community