Army Recruitment: Nigeria Army New Recruits to Undergo Special Forces Training.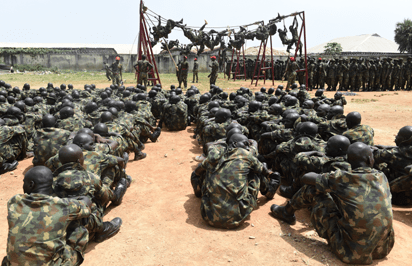 Nigeria Army authority has reiterated total commitment to ensuring better performance of its soldiers across all commands and military formation in the country.
In this special report, Galaxy Tv correspondent Ajibade Awofeso relates the views of senior officers as it concerns the ongoing paradigm shift in the Nigeria Army.
As part of ongoing effort to produce quality soldiers for all the commands and Army formations across the federation the Nigeria Army under the leadership of the Chief of Army Staff Lt Gen. TY Bruatai has ordered that every new recruit into the Army must undergo the special forces training.
It is in this regard that the director of the directorate of Army, recruitment, resettlement and reserve Brig-Gen. Emmanuel  Akpan embarked on a sensitization tour across the 36 states of the federation to interface and discuss with governments and people of each state on way forward to achieve a successful goal in the paradigm shift.
Of such imperative visits is the one made to Imo state, southeast Nigeria where the tenets of the concept of the special forces as related to the forthcoming Army recruitment were made known to the people of the state.
Consequently, the Brigadier general who arrived the state in the company of other senior officers from the directorate of Army recruitment, resettlement and reserve were received by the state governor Hope Uzodinma who was represented by his deputy Prof prof. Placid Njoku who expressed total satisfaction on the development and pledge maximum support.
While fielding questions from journalists Brig. Gen. Akpan, said the concept is not only targeted at potential recruitees but also the already existing soldiers to get them mentally and physically fit for the day to day military activities as required of them.
With this, it is believed that henceforth the Nigerian Army soldiers can now fit into any form of operations, thereby equipping them to excel in their various military careers. from Owerri the Imo state capital Ajibade Awofeso Galaxy Tv news.