ALLEGED TERRORISM: APPEAL COURT STIKES OUT CHARGES, DISMISSES SUIT AGAINST NNAMDI KANU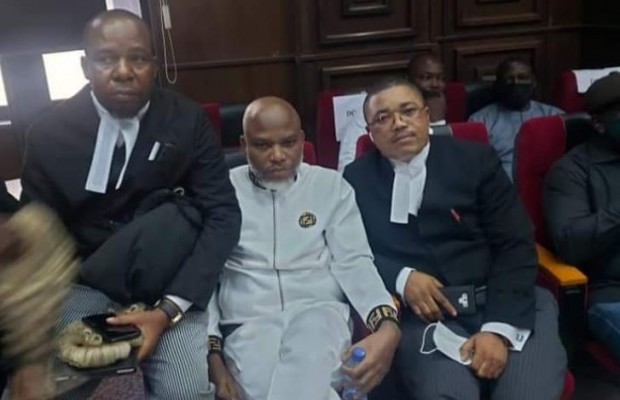 The Court of Appeal has struck out the remaining seven counts against Nnamdi Kanu the detained leader of the Indigenous People of Biafra, IPOB and discharged him of alleged terrorism brought against him by the Federal Government.

In a lead judgment read by Justice Oludotun Adefope-Okojie, Thursday, the Court said the lower court lacked jurisdiction to hear the matter on the amended 15-count charge bordering on terrorism levelled against him owing to the method of returning Nnamdi Kanu to Nigeria following his arrest in Kenya.

The lead judgment said the abduction and forceful rendition of the appellant back to Nigeria stripped the lower court of jurisdiction to hear the suit as no extradition proceedings were held in Kenya before his rendition back to Nigeria to face trial.

The Appellate Court noted that the action of the government in the extraordinary rendition of Kanu was in breach of international laws and conventions which Nigeria is signatory.

It is also stated that the action of the government was also in breach of local laws including the Terrorism Prevention Act and the Extradition Act.

Using the term 'abduction' to refer to the action of the government in the movement of Kanu back to Nigeria, the Court held that the respondents had failed to follow due process in the extradition procedure describing it as 'Executive recklessness'.

The issue of compensation is also being considered.