Protesters arrested as they run from campus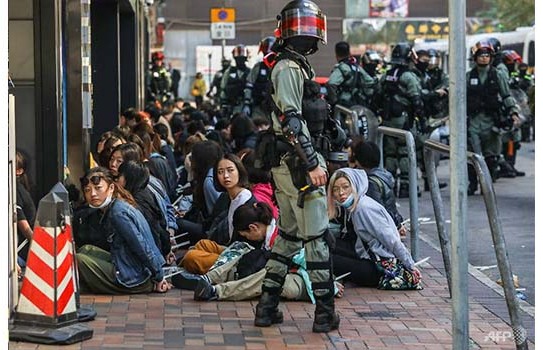 Several protesters have been arrested while trying to run from a Hong Kong university campus surrounded by police.
A group of around 100 people tried to leave Polytechnic University but were met with tear gas and rubber bullets. It is the third time protesters have tried to leave, following a fiery overnight standoff with police.
In the past week, the campus has turned into a battleground as long-running anti-government protests become more violent. Meanwhile, Hong Kong's High Court ruled that a ban on protesters wearing face masks was unconstitutional. The colonial-era emergency law was invoked in October, but protesters largely defied the ban.
The violence is some of the worst seen during months of unrest in the semi-autonomous Chinese territory. The protests started over a controversial extradition bill, and have now evolved into broader anti-government demonstrations.
The police are continuing to lay siege to the Polytechnic University where several hundred protesters are thought to be trapped. Officers have ordered those inside to drop their weapons and surrender.